I weighed in Monday, 4 days after my vacation (from exercise and tracking too) and was only 2 pounds over my goal weight! Today I'm back down to my goal weight.
More importantly this week, is my fitness level. Saturday is my half marathon!!! I did a little research yesterday to try to mentally prepare myself for the race. I've learned a some things (although I could have probably guessed all of them!)
1. I'll be one of (if not the) last across the finish line.
2008 Results
- There is a 3 hour time limit this year. I typically do my long runs with between a 12 or 13 minute mile, which translates into a 2:37-2:50 finish time. I typically run races faster than I can in training. Not on purpose, but because of adrenaline or something I race better. I'm hoping to be on the low end of that range.
2. Its probably gonna be cold!!
Take a look at
these pictures
. Keeping in mind that it was in the low 70s (at 3 in the afternoon) here this past weekend for my last long run before the race. I wore a tank top and felt perfect. Here's the forecast for this weekend: 30% chance of precip, 58° high and 47° low! The race starts at 8:30, so I'm guessing its closer to the low. Good thing I broke in those running pants before our November heat wave hit!
3. I'm probably gonna cry.
I got choked up looking at pictures of last year's race. I'm such a dork. Hopefully someone will step up and smack me. I got so annoyed with Rebecca crying during her race on Biggest Loser last night, but I have no doubt that'll be me!!
4. I'm going to have a huge support group there.
Jay will be going with me bright and early that morning, then my parents, sister, brother-in-law, and their two kids will be waiting for me at the finish line. Normally the princess jumps into my arms when she first sees me for a big ole hug, I hope she understand why I probably won't be able to pick her up after the race!
My brother-in-law mentioned writing the princess and little man's names on his hand before his big race. I was thinking of doing something similar, after all my niece and nephew are part of the
reason I run
.
I'm nervous. I'm excited.
I'm really going to do this!!
How'd you do this past week? (PS - I'm at 22.6 miles for the competition.)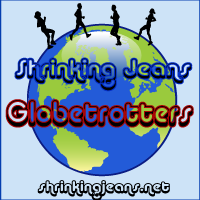 Go post, then link up at the
Sisterhood
!!