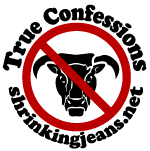 My first confession?
I'm wearing white after Labor Day.
*Pauses for the collective gasp.*
Here's the thing - is September, its still 90 degrees out, and I wanna wear this sundress. And the white short sleeved blazer is the only thing that makes it work appropriate.
Also,
I'm not going to do a vacation synopsis post.
Jay's got most of the pictures posted on facebook and I didn't do much of anything besides this:
When we did venture away from the beach we had fun. Be it thrift store shopping (because Jay didn't pack enough t-shirts) or playing with our food...
If you're not my friend on facebook and wanna be, just email me and I'll let you know how to find me.
I'm nervous about my triathlon but not worried...
I was super worried after reading a book on vacation that mentioned walking your bike is illegal and grounds for disqualification. Christie O. assured me that she'd seen it plenty of times. She then consulted the USA Triathlon rules which served as more reassurance. If I'm walking my bike I have to get out of the way for those riding, but I can walk it if necessary.
Planning my marathon training gave me a high, although I am a bit intimidated by the number of workouts in the week.
Excluding the long run mileage, its nothing I haven't done before. I just haven't gotten back at it full throttle and I'm a little nervous about it.
I got more mud out of my ear this morning.
Too bad Jay hasn't sent me the pictures to share. After the mud run last Saturday it took 6 Q-tips (both ends) to get the mud out. When I cleaned my ears out this morning I found more that had apparently been hiding.
I get home Internet this morning!!
Jay is meeting them to install sometime before lunch. We had been relying on his Verizon Internet card for service, but after 2 months of outrageous overages ($150 last month, $300 this month)
we
I called to get home serviced hooked up.
I could do a whole blog post about this one. But I won't, cause I'd be whining and you don't wanna hear it. I'll just say that if we can afford $300 Internet overages I can afford to put the a/c down to 78 when I'm cooking and hot.
I hope to eventually get a net book, but for the time being I'll probably use Jay's old laptop. It works okay except
he's a diva
the power cord has to stay plugged in all the time. Totally a reason to buy a brand new $700 replacement right.
Okay I'm going to end this post
before I get bitchy and run off everyone with tales of how my husband has woken me up with stoopid talk radio MP3s at 4:30 AM two consecutive mornings and my patience is wearing thin due to exhaustion.
So - what do you have to confess this week??