Good morning my shrinking sistas!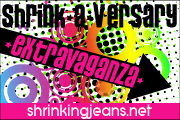 I know I keep saying I'm going to quit weighing myself, but every Wednesday morning I feel compelled to see if I'm ballooning back up. Most normal people can just tell by looking at themselves.
Not me.
I'm
OCD
a perfectionist
have body dismorphia
mental.
I've eaten around 2000 calories a day for the past week - not by intent, but by compulsion. Like last night I was cooking dinner and every time I opened the fridge to get an ingredient - the sliced cheese called my name.
I helped myself to three slices.
And didn't reduce the portions of green beans, french fries, or bbq chicken I had already tracked to eat.
While shaving this morning, I looked at my legs and could just tell they were porking up. Not only had I eaten more than normal (btw - 2,000 calories should be maintenance for me right now - which is my goal), I had taken 4 days off in a row from exercising.
4 days!
What a sloth.
So onto the scale this morning with me.
And you know what? I weighed 128 (goal weight is 125). In despiration I took off my leather hooker boots and socks and got back on the scale.
125.8.
Dang!
2,000 must truly be maintenance for me!
Kick @$$!
Because on normal days, eating 2,000 is difficult for me. 2,000 calories of whole, clean foods is a lot!
Now I just need to be sure I don't start to splurge on...let's say...a piece of chocolate fudge every day just because I know I can. Then again, I do only have 3 pieces of fudge and 1 chocolate oatmeal cookie left, so I guess that's not too big of a danger.
Before I shoo you away to go hop on your own scale - I leave you with a recipe for a delicious chocolate treat - a protein shake. (I drink them after heavy lifting and after long runs.)
1 scoop chocolate protein powder
2 packets splenda
1 tbsp half and half (or 1/2 cup milk)
1/2 cup water (omit if using milk)
blend together in blender.
add ice, blend until ice is crushed.
for about 140 calories you have a good sized frostee esque treat!! And its full of protein to help your muscles build back up after a hard workout. (Crap - I'm starting to sound like Bob and Jillian when they're plugging products.)
Now get to the scales, the link up over at the
Sisterhood
.