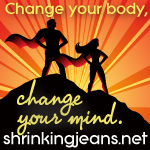 Its time for a new challenge over at the
Sisterhood of the Shrinking
Jeans designed to help us not only shrink in the coming new year/decade - but to help the changes we make actually stick!
I'm wiping the slate clean. After a month of not really tracking my food, my weight settled in at around 128-130. Down comes my 10# button because the girl who never worked out and ate fast food every day is gone. If I earn a button this challenge/year/decade, I'll put it up when appropriate.
Starting weight: 130 - yikes
takes off shoes
128.8
spots self 1 pound because weigh in was after breakfast
Starting weight: 128
Goal weight: 120
You always hear that the last 5 are tough to lose. Only it wasn't tough for me going from 130 to 125. So that tells me that those weren't my last 5 to lose. My hope is that I can get to 120, see what it looks like for me then decide what my true maintenance weight is.
I was chatting with a friend about weight and weight loss and knowing when to stop. Its a hard conversation to have because most people are afraid to offend. The friend that have been right by my side for most of the journey (both in exercise and in food tracking) is incredibly blunt (but she also knows when to lie - its a great trait for a friend to have).
She and I were talking about finding our goals. Hers was to get back down to a weight she remembers looking good at. Since I didn't start weighing until I got out of college (and I was around 130) I don't have that bench mark.
She had suggested getting down to 120 and then re-evaluating my goals. "Sure you don't need to lose any more weight - even for vanity sake - but why not? You'll never be this close to having the perfect body again in your life."
While most other friends (including my darling husband) would have told me I was perfect just the way I am, she cut right to the chase. At first I was offended (I'm an easily offended person, we often wonder how we're friends). The more I thought about it I realized that was one of the nicest compliments anyone has ever given me.
Sure I'm fine the way I am. I'm perfectly healthy. My husband loves the way I look.
But why not try. Just to see what I'm capable of?
My only fear is that I'll lose down to 120 and that won't be good enough either. I'll never be skinny enough. My friend promised me that she won't hesistate to let me know if I get too small. Since I've seen her do it to other friends, I have no doubt that she's up for the job.
This time next year, I want a closet full of comfortable 4s. For all of the 8s to be boxed up and in the attic with the other "if i have a baby in the next couple of years" stash, and the 6s to be there waiting to be wore when Aunt Flow comes to visit.
I want to run a sub 30 minute 5k.
I want to shave 15 minutes off my half marathon time - finishing in around 2:30.
I want to ride around Cades Cove without dismounting my bike.
What does the new year have in store for you?