Yall know how I like a good challenge right? I loved doing the Monday Projects earlier in the year and feel like I had some good personal growth because of them.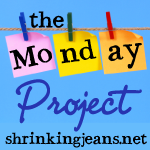 Well...the Monday Project has become the Monthly Project. This month over at the Sisterhood we've been challenged to clean out our cupboards, refrigerators and freezers - purging what has gone bad or we don't need in the house tempting us, and taking an account of what we do have on hand.
I've taken the pictures, throw out the 7 month old popcorn some stuff, and am in the process of cataloging my food.
What? When you see how much I have you'll understand why its a process!!
*Puts on nerd glasses* I'm then going to put it all into an excel spreadsheet that I'll update as I use/add to my inventory.
So - here's the part where you chim in. I'm batting around different ways I can challenge myself for September. It really is embarrassing how much food I have. In a "I'm so incredibly blessed if I post what I've got it'll look like I'm bragging" kinda way.
Have you ever cooked from your pantry - and only from what you have on hand - for an entire month? Is it possible?
I definitely want to try it, but I didn't know what parameters to put on it. Is this for dinner only? All meals for September? Am I allowed to purchase fresh fruits and veggies? (I wouldn't go without if I didn't - I have plenty of canned and frozen of each.)
I'm also considering making a sub category in my budget. *Adjusts nerd glasses* Right now we have a category for eating out and a separate for groceries. I was thinking of subdividing the eating out. We spend a lot on fast food, instead of going out once or twice to nice restaurants. Anyone had luck tackling this beast? Maybe split off half the budget for fast food?
Also, I'm going to need lunch ideas. If I'm not going to go shopping, I'm not going to be allowed to buy Lean Cuisines. I'd like a variety of things I can bring to work.
Breakfast ideas are welcome too, but I'm boring enough that I could eat oatmeal every day and be happy.
Please feel free to leave novels of information in my comments section.