Yeah, yeah. I know that the month started last week. I was in paradise, so I didn't exactly sit down with a pen and paper on my hike through the bamboo forest to write down my goals. I'm back in the swing of things now, so in conjunction with the Spring In2 Action challenge and weekly check in I wanted to share my goals with yall.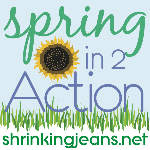 Give me a moment to crack open my handy dandy notebook. Stop laughing at me. Yes, I have an eating chart as well as a daily goal chart printed from a Publisher file and bound in a 1 inch white binder. Yes I am a nerd. Deal with it!
64 oz of water daily.
3 fruits/veggies per day
Exercise at least 15 minutes per day
Read Bible daily
Read book of my choice 30 minutes daily
I know I've read it a million times, but I'm going to have to research portions as to what counts as a serving of veggies. Also I've decided too subtract one thing and add one thing to my life for Lent. (Today is Ash Wednesday.)
I'm going to abstain from drinking carbonated beverages for the next 40 days. Yall know that I've tried this before to no avail. This time I've got better motivation. Instead of focusing on my deprivation, I'm going to focus on the cross of Calvary and the coming Easter season. Whenever I encounter a craving for coke, I've resolved to pray for those who have no clean drinking water.
Also? I've decided for the next 40 days I'm going to pray before every meal. I've been incredibly bless - God has provided our daily bread and then some. I should have an attitude of gratitude, and I don't. I need to set aside time to thank Him for that. To thank Him for our good health as a family.
I have decided that I'll be calorie counting (just for some structure - please see my printed off goal chart as proof that I crave structure) and weighing in every Wednesday, but I don't want to share that number here. I want it to be a tool, but not my focus.
I feel like I'm off to a great start - now just to keep it up! Can't let
Ashley
(my fellow Dare Devil Diva) down! I refuse to call us the Triple Ds cause that's just false advertising!!
How's you're week going? Are you observing lent? What goals (be it fitness, financial, or otherwise) do you hope to reach this month?