I've got a couple things to confess, then I've got a question for you. M'kay?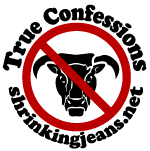 Dinner last night was an epic fail. The irony of the "what's for dinner?" crisis on the same day I posted about my monthly shopping hiatus wasn't lost on me. More than anything, I was cozy in front of the fire (yes it was cool enough yesterday for my man to build a fire) and I didn't wanna move.
I included a race report with my thank you letter to the infusion nurses.I toyed with whether or not that was me being vain, but I decided that in order for them to see what a difference they made in my life, they had to see how much racing means to me.
I can't keep my house clean.
At first I blamed myself. I've been busy for the past few weeks and haven't gotten around to it. Then last night I cleaned my bathrooms and straightened up the house. Only to have Jay come behind me a couple hours later and mess it up again. Hard to be motivated to clean when there are tobacco flecks in the floor 2 hours after sweeping it.
I'm participating in an indoor yard sale this weekend.Our local civic center hosts the sale twice a year. Instead of pricing everything I'm going to label my 2 tables "everything this table $1" and "everything this table $0.50. I'll be sending the money I make to Christie O's Preemie Project.
I'm an anxious person by nature.
I'd like that to stop please and thank you.
I have very few pants that fit me.
At my biggest, I was a size 8. All of those pants are packed up and under my bed for if I ever get pregnant. You know that awkward time when you're too big for your regular stuff yet too small for maternity wear? A friend suggested I keep my 8s for just such an occasion.

At my smallest, I was a size 4.

Right now I'm more of a 6. The problem? I didn't buy very many 6s on the way down. I kept holding out for the 4 so I wore my too big pants around with pride.

Here's where you come in? I don't know what to do. I don't really want to get the 8s out for fear I'll just continue growing until they fit me properly. I don't want to invest in 6s out of hope that with marathon training will come weight loss. BUT I can't go around wearing too tight pants until that happens.

Any words of wisdom would be much appreciated!