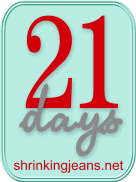 I'm pretty sure I failed this challenge all the way around.
The purpose of the challenge was to set goals for ourselves and work toward making them habits. I was all excited about the challenge because it wasn't focused on weight loss. Due to my recent revelation that I'm
freakin
awesome if I weigh 120 or 138 I haven't weighed
except that one day I cheated
in over a month.
No more tracking, obsessing, or general foolishness. But this challenge was a great opportunity to focus on healthy habits, not necessarily weight loss.
What did I choose?
Eating 5 fruits/veggies a day
Serving 1 veggie with dinner every night
Picking up the house every night before bedtime.
After the first week I decided to log the fruits and vegetables I had each day, as well as what I cooked for dinner. The second week I added a running tally of how (and how long) I cleaned the house.
Each Wednesday I would review the list and put a big FAIL beside each goal because I didn't achieve it.
Until I realized I was falling back into the tracking trap yet again.
Don't get me wrong, its a very useful too.
I'm just crazy and
I became obsessive about it. I'm like a gremlin, bad things happen when you feed my obsession.
So without tracking for the past week,
how'd
I do? Pretty well on the serving one veggie with dinner every night. I never quite hit it on the fruits and veggies, but I am more conscious of what I pair with each meal and snack, as well as being sure to buy plenty at the store. The clean up hasn't worked as well as I'd like, but I've had so much going that when I do get a free moment its just nice to collapse on the couch.
For my final review this challenge was one giant FAIL.
Only not. Because it made me think, consider my choices, and know when give myself a break.
I mean really, I could pick up tonight and they'll just be more empty dip cans, dirty socks, and full spit cups waiting on me tomorrow.
How'd
the challenge go for you?