Being the
kickin
/awesome Shrinking Jeans member that I am - I psychically knew in advance that May was Sisterhood run month and signed up for a 5K weeks ago.
OR
I just so happened to run a 5K on Saturday and then hop on the web to see this morning that the Shrinking Jeans ladies have claimed the month.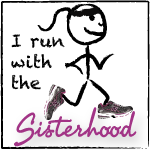 First off I want to say - if you're not a runner, don't think you could be a runner - just give it a try. Its amazing where it has brought me this past year. Like the
One More Mile
tee says "You don't have to go fast, you just have to go."
I'm certainly not the best runner in the world but I can tell you that its about far more than pace times - its about that feeling of pushing yourself. Its about digging deep. Its about knowing you can.
Because as long as you have two legs and two lungs - I promise you can do it. It may take a little work, but you totally can.
Probably not very encouraging that I'm mixing this post telling you to lace up your kicks and hit the pavement with the race report for my worst 5K ever. Then again maybe it is.
I started the morning with the breakfast of champions - normally foodies who take pictures of all of their meals get on my nerves. To you I say "to bad so sad" and "deal with it!"
Not quite the breakfast of champions, but it sure was yum. Please don't comment on the grease soaking through the biscuit wrapper. I realized it was greasy. And I just didn't care.
The race registration was in the
Dollywood
Splash Country parking lot. If you'll notice on the sign, denim in the water park is expressly forbidden.
Yes, that is something people in this county have to be told.
Moving right along, there was a long line for registration, but I had gotten there plenty early so I took my place and waited.
I wish I had some clever things to share with you about the race, but unfortunately most of the race was filled with me gasping for breath. The pollen here is outrageous and my chest has been hurting for the past week or so. Its very frustrating when something as natural as breathing hurts every time you do it.
I knew I probably shouldn't race, but I had already paid my entry fee so I decide to push myself. Also, the 2009
SMARM
5K was my first race ever, and I was interested in rerunning the course to compare times.
Want the comparison?
2009 - 33:59
2010 - 36: 48
Sad huh?
Only would I have thought it was sad if
Pubsgal
didn't do so hot on a race because of her diabetes?
Would I have felt the same if one of the
Team Shrinking Jeans
gals performed under par because of one of their leg/knee/foot issues?
Of course not. I'd be sure to praise them for their hard work and perseverance. Finishing under those circumstances is a victory itself.
So why was I disgusted with my performance?
It wasn't an oh crap I'm out of shape and winded form of having trouble breathing. 5 minutes into the race I was gasping for air and couldn't get a deep breath. By the top of the 1st hill I was wheezing. Near mile 1 I started getting dizzy.
That's right, so little oxygen was getting in my system I got light headed.
Several times I had to stop and walk just so I could get a good breath.
This is one time I can say that I sucked out loud. Literally.
At the turn around point I decided to give up on having a good race (or else I just faced facts), and decided to encourage others along the way. There were a couple of women around me, and I tried to be as encouraging to them as possible. Also as I encountered people I knew headed toward the turn around I would cheer for them.
A couple of ladies from the local running group were just a little behind me. "Great job ladies keep it up!"
The guys behind them took issue with my cheer. "What about the fat men? Are we not doing great?"
Even though I didn't know them, I became their cheerleader upon request.
I must admit I'm a bit thick in the head sometimes. Over the past year with the Sisterhood, over the past 2 decades being a Christian, I never knew what my spiritual gift was.
God claims that He gives a gift to all believers. Since I didn't have a problem with the Jesus as Messiah claim, or the walking on water claim, or any of His other miracles, why did I choose that one Biblical truth to doubt?
Because it pertains to me. As annoying as those people are who can't take a compliment - I was given a gift upon turning my life over to Christ, yet I couldn't see what it was.
This past week, as I've been giving up things for God (calorie counting/the Daily Plate, the Daily Mile) I considered the Sisterhood. I came to the realization that the Sisterhood was good for me, and I am good for it.
Why?
The same reason that this race should be considered a success.
The same reason the
Covenant 5K
should be considered a success.
Because I was using my spiritual gift.
I'll give you 3 guesses as to what it is, and the first two guesses don't count.
My purpose in blogging?
My purpose in racing?
My purpose in life?
Encouragement.
Only I'm really seriously thick in the head because
this post
should have been a red flag for me. As should have been
this one
. And by my own admission
this one
should have been the kicker.
Only it wasn't.
And while i waited at the finish to cheer on the 86 year old man who finished in just under 53 minutes, I was still disgusted with my performance.
As a matter of fact I didn't "get it" all weekend. I went home, showered, then went straight to bed. Then I devoured a novel, then another trying to get my mind off the race. (Oops, forgot about the 8 mile post race bike ride.)
Finally God hit me over the head yesterday morning with the sermon. We read in
John 21:1-1
4 about how after denying Jesus, Peter went back to doing that which came naturally to him - fishing. Only he spent all night catching nothing. The next morning, Jesus paid them a visit and instructed them to a net so full of fish they couldn't bring their catch in.
The point? Without God there is no point. Its just a fruitless pursuit.
Yesterday I gave everything up. I knelt at the alter and told God that He could have it all. During our discussion this morning He gave triathlon training back.
Not for me, but so that I can encourage those other first timers along the way. Or maybe for those veterans who need a reminder about how awesome they really are despite their times.
He gave it all back. All but my pride.
I've said that my goal is to finish the race but dear God please don't let me be last.
Taking back the triathlon I had to agree that last would be okay. Not finishing will be okay - assuming that I give it my all.
So once again I leave you with the choice...either:
This was my worst 5K ever.
OR
This was the most enlightening race of my life.