I've kicked Debbie Downer to the curb and decided to make today's Confessions all positive things about my week. Before I go on, thanks guys, for finding something positive to say yesterday when I was wallowing in self pity. I figured I'd scare everyone away - I mean how do you comment on a post like that. You all are the best!!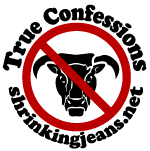 Now on with the program!
I made the paper! The K-town paper - for my 5K time! The race this weekend was one of the biggest of the year and they post the top 50 in each age/sex category. Since I was 50th I just barely made it, but I made it none the less!
My parents finished the race, and within their goal time. I think my didn't enjoy it as much as he could have, because he remembers the glory days of when his body allowed him to run the races. These days with two bum knees he had to train just to walk the 5K.
My mom has actually said she would consider doing another race in the future! She loves walking and if she trained on her own without having to compensate for someone who desperately needs total knee replacement but refuses to have the surgery I think she could seriously improve her time. How cool would it be for my mom to get bitten by the race bug??
I got a text from my sister last night "Per Tasha - answer her facebook message asap." Tasha is her next door neighbor. Borrowing the hubs computer, I logged on to see that she was asking me about my upcoming marathon. She was looking for motivation to get back into exercise and fitness, and though having the goal of a race would help her out. I love that she emailed me of all people to ask. When her neighbor (my BIL) is a PE teacher and Mr. I've Ran Up the Empire State Building.
There was no bloodshed when Jay said before the race on Sunday "You know, you actually look like a runner?" Well no sh*t Sherlock, that's because I am a runner! Of course he meant it as a compliment, so we'll say how sweet (yet stupid naive) of him to make a comment like that.
There was no bloodshed when the girl downstairs who is a twig thanks to mother nature bragged that the work scale said she weighed 99 pounds - then asked me what I weighed.
What? Those last two
are
positive!
Now on to the race day pictures. My sister was there when Jay & I crossed the finish line, but she didn't see us. Somehow my description of Jay and I ("we're wearing white tees and black shorts) didn't help her out any.
The big appeal of the race for my dad and Jay was the finish line.
For those of you who are like me who don't give two craps about college football, this is Neyland Stadium. Home of the mediocre mighty University of Tennessee Volunteers. The finish line is smack dab on the 50 yard line.
This race gave 5K, half marathon, relay, and marathon options. At the 26 mile marker I started sprinting, knowing I was almost inside the stadium. As I crossed the finish line, I was too busy trying not to vomit to notice myself on the jumbotron. Hopefully the race photographer caught the moment.
Replaying the race in my head (other than that last 0.2 miles) I'm pretty sure I didn't give the race my all. I could have probably shaved a bit of time off had I behaved only slightly differently. On the down hill to the turn around, instead of giving it my all, building momentum - I kept close to the edge looking for Jay. I knew the uphill after the turn around would be killer for him (due to lack of training) and I wanted to encourage him.
"Great job Jason (Mothersmaiden) (Mymaiden) (Last)!!!!"
Just a side note - he didn't actually take my maiden name as a middle name, but I keep telling him that if I had to take his name, and his mama's maiden name was good enough for a middle name he should take mine too!
Then after I reached the turn around, I kept an eye out for my parents. This actually probably helped me, since I wasn't stressing about the killer long uphill I was doing. I caught a glimpse of them as we both neared the water station (in opposite directions).
Pumping my fist in the air I yelled "Team Justus Represent!" a little louder and with more force that someone on mile 2 of a difficult 5K course should have been able to.
I was incredibly proud of all their hard work and wanted them to know it. The picture above is after they had crossed the finish line. Even though they said they wouldn't - they jogged the last 0.1. Most of it was the grass of the field, which is easier on my dad's knees.
After all was said and done, we got some post race pictures. I promise, Jay and I didn't try to match like that, it just happened.
Then it was off to Thompson Boiling Area (where the UT Men & Lady Vols play basketball) for the post race party. I think Jay wanted the score board in the picture, but he's not good at being bossy so this is what we got. (Is it really all that surprising that he married me? He needed someone to be bossy for him!)
Then it was time for some stretching.
I'm not a big fan of me in this picture - but I wanted to post this because I was so proud that the Princess and the Little Man wanted to get in on the action.
So while my attitude sucked, you can see that the race, in fact, did not.