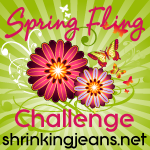 Its weigh in time and as predicted, I had a rough week.
I'm up this week, and its completely my fault. No need to beat me up, I paid dearly for it last night. I can honestly say I don't think I'll want near a buffalo wing for a long time to come...
Now for the full report.
I went into this week knowing I was going to be bad, but figured it'd be worth it. I ended up burning 1400 calories on Saturday with my walk/run combo of 17 miles. So even though I didn't have to feel guilty about the Mellow Mushroom pizza, it honestly wasn't that good.
Sunday was okay, nothing crazy, nothing great. It just was. Then came Monday - its difficult to find something to eat in someone else's house, especially when they have different cooking/food prep habits than you. The big oops, however, was completely my choice.
My sister, the princess and I went baby shower shopping then met up with my BIL and the little man at Outback afterward. I deliberated back and forth what I was going to get, and settled for the bacon cheeseburger.
I've said before, I don't count calories in front of the princess. I truly stand by that because I want to be a good example. Not sure what kind of example I was covering my bacon cheeseburger in ranch dressing. Definitely went with the wrong choice there.
The princess, on the other hand, ordered chicken tenders and veggies for her meal and ended up eating more veggies than chicken. Although she is the first child I've ever seen dip
cooked
veggies into ranch dressing.
Then there was yesterday. As the LM was grunting for his spaghetti o's (so hungry he got upset with me for wanting to heat them first), Jay called me and told me that I needed to get home in time to meet Stan, a client of Jay's, at the brewery.
Over a month ago, Stan had challenged me to drink a tall boy. He didn't think I could do it. Never one to back down from a challenge (remember that stubborn streak that made me start my weight loss journey? it gets me to do some not so smart things too) I agreed. Because I'm that Junior High.
Meet the tall boy - 33 oz of microbrew beer.
I just didn't know it would be the night before a weigh in. To end a week I've been craptastic with my eating.
I can make all the excuses I want about how I have to act/eat/behave a certain way around Jay's clients, but when it comes to meeting up with them for dinner, like in this situation with Stan - its gone beyond the client/realtor relationship. Stan met up with his friends Jay & Brooke for beers last night. He's meeting his realtor Jay this morning to take care of business.
Meet Stan.
For those of you dying to know, yes I rose to the challenge.
And, yes, that is a stack of chicken wing carcass on my plate in front of me. I had 2 pieces of pizza, too many wings to count. 1 tall boy and 1 glass of water.
I asked Jay what his thoughts were about me eating like crap the night before a way in. "You're hot as balls any way, what does it matter." Well then, not sure my teammates would accept it, but it was good enough for me.
Then around 1:30 last night - I paid for it. Jay made fun of me this morning (apparently sleeping so deeply he didn't hear his wife wreching last night) because he though it was the beer that made me sick. I'm ashamed to admit that I know what drunk/hangover sick feels like. This wasn't it.
First off, I wasn't drunk. I won't claim the tall boy didn't have any affect on me, but I certainly wasn't wasted.
Secondly, my tummy isn't use to being fed crap. Who knew? After 4 days of being fed crap, it had finally had enough. The good news is that I'm fairly certain those calories don't count. The bad news (or potentially good news I suppose) is that after seeing them the 2nd time around I don't plan on consuming wings in the near future.
So, that's my week. Told ya it wasn't pretty.
Now for the weigh in...
Goal weight - 120
Last week - 124.4
This week - 124.8
I am going to kick it up this week to make it up to my team. I feel really bad that I let them down and promise to do everything within my control to be down to 123 next week. Everything except have a repeat of last night. I really don't know how those ED girls do it all the time. While this should go without saying, I'm going to say it any way - its totally not worth it.
So how did you do this week? Well I hope, just not too well to push the Weight Loss Warriors too far down the leader board. Weigh in, blog it, then post your link over at the
Sisterhood
.