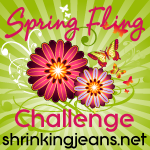 Its weigh in day ladies!
Don't let the exclaimation point fool you - I'm tired. I sucked last week. And I'm cramping like a mo fo. I can fake perkiness with exclaimation points all day long but the truth is I just want to crawl in bed and go to sleep.
Only if I went home I'd feel obligated to work on the house.
Then I'd want to beat the snot out of Jay for assuming I have time to do his laundry on top of everything else on my list. You see we've kinda got household policy where we each are responsible for our own clothing. We each have
far too much
enough clothing that I can fill a load with my clothing alone.
Actually, let me clarify. I've said that we should each do our own. He thinks that since I have the female parts and he has the male parts I should do his. So I do my own. He lets his pile up until
his mother comes to visit then they commiserate about what a shitty wife I am while she does his laundry for him.
Sorry folks, I warned ya it wasn't a perky, delightful day.
You guys know how overwhelmed I am with the house. I mean I've only mentioned it on just about every post since before the move. Jay is either oblivous or doesn't care because last night he just set his laundry basket in the kitchen for me to take care of for him.
Okay so this blog is going down hill fast...let's just get to the point.
Goal weight: 120
Last week's weight: 124.8
This week: 127.0
I suck.
There now that we're all in agreement I'll defend myself by saying I have PMS. Aunt Flow is due to arrive tomorrow morning and I'm fairly certain this gain is competely due to bloat.
I looked at my initial Spring Fling weigh in post and I had lost 3 1/2 pounds that week. Unheard of for me. BUT it was the week after Flow packed up and left, so I'm wondering if this monster bloat is just the way things are going to be. Which is totally fine if I always follow up with a good loss.
Also, a friend of mine and I have a new plan to help stay on track with calories. I'd tell you all about it but since I'm such a bitch today you've probably already stopped reading. I'll explain it next week and let you know how it went.