I feel the need to get something off my chest straight away.
I may or may not have uttered the following phrase last night: "I don't get paid to do math. I get paid to put a semi-decent meal on the table and to look smokin hot." Sarcasm may not have been present in that statement.
I mean seriously - trophy wives don't do math do they?
Then again they also don't work full time jobs. I've gotta renegotiate this trophy wife contract of mine...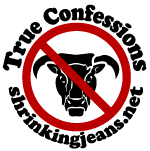 Moving right along...
*In case you didn't read - I totally kick some calorie counting booty at Buffalo Wild Wings Friday night. I managed to walk out of there with some extra calories in my pocket.
Which I may or may not have desperately needed come the weekend.
*After skiing on Friday - I totally kick some calorie counting booty and stuck with the plan (salad and chili) to walk out of the restaurant head held high and a handful of calories to spare.
Did I mention I sucked this weekend? I'm horrible about having food at the house to throw something together so we snacked on crap.
* I was all ready to brag on myself for making smarter choices regarding last nights dinner - a friend suggested I eat low fat cream cheese and spinnach on my english muffin rather than peanut butter and jelly. Only when I got to the store and saw that a bag of spinnach is $3 I totally took a pass.
Then after I got home I took a pass on the english muffin and had one or two of Jay's canned biscuits.
*I may or may not have taken a 4 hour nap on the couch while Jay worked upstairs trying to give me the perfect closet (or at least an improved closet). Having said that I worked my rear off before and after the nap, so I consider it a good investment of my time.
*I'm actually starting to believe this "I'm hot" nonsense. When I look in the mirror, my eyes don't zoom in on my saddle bags any more.
Anyone watch Chuck? I was thinking last night that I'm like the character Ellie, Chuck's sister. She's not the drop dead gorgeous twiggy blonde that
Jay
guys watch the show for, but she's very attractive in her own right. I may never be the skinny blonde, but I'm starting to be more and more okay with my role as the sorta hot sidekick.