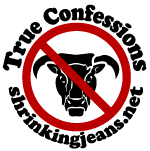 For the most part I was great this week - burned 4,200 calories, stayed with in my alloted calorie intake (didn't even use the extra 400 I spoted my self for the 20 miles on Saturday). I got some "me" time in - I'm half way through a fluffy novel. Jay and I spent some quality time together - okay it was watching a stupid movie but it was funny and we both enjoyed it.
Not much left to confess right?
Besides the fact that I didn't last an entire week giving up coffee.
Wrong - today I confess the following:
I want Easter my way. With my family. I figure since Easter is about celebrating the resurection and hunting eggs (he doesn't believe in the resurection and there are no kids on his side to hunt eggs) that I should be given my way. That we should go to sunrise service at our church, then head to my grandmother to watch the princess and the little man hunt eggs.
We're over budget on just about every catagory we made envelopes for now. Except dip - the one thing I lectured Jay about making sure he didn't go over on.
I was quite prideful when my mother told me my grandmother's reaction to seeing our house for the first time. She said it was really nice - could we afford it. Of course this wasn't to me, so I couldn't brag about what a great deal we got on the place. But I certainly puffed up a bit that my house is so nice my grandmother didn't have a clue how little we paid.
I'm going to be glad very very glad when I start focusing on training for the triathalon next week. I'm sick of worrying about pace and beating myself up for not being fast enough.
I'm worried that Jay will beat me in the 5K this weekend. The dude that hasn't exercised in over a month (playing basketball with the guys) and who knows how long before that. The dude that thinks 3 miles is a long run. But I know he's going to - because he's naturally athletic like that.
I'm worried that I won't reach my 31 minute 5K goal. I've said I'll be happy with any new PR (32:08 or less) but that's just not true. I want to race a 10 minute mile. Period.
I'm worried that after all my hard work this week, I still won't lose weight - meaning this is the weight loss end for me. I have nothing left to give. If I don't lose this week I'll be seriously upset.