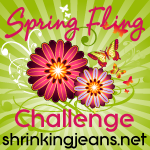 Good morning! I was nervous going into today's weigh-in. I busted my hump this past week - burning over 4,000 calories and sticking with eating only 1650 calories per day. Add to that the bloat gain from Aunt Flow last week, and I was bound to lose. Right?
Right?
Right??
What could it mean if I didn't lose this week?
I held my breath and stepped up on the scale.
Challenge starting weight: 125.4
Goal weight: 120
Last week: 127.0
This week: 123.6
I lost almost 3 1/2 pounds!!! Are you freaking kidding me?
That means I lost all of my bloat and then some. Which means my exercise is burning the fat off, and 1650 is just about right where my calories should be. Woot! Woot!!!
I really needed this victory. Yesterday I got really down on myself because my running hasn't been improving the way I would like it to. I ask my husband last night why I can't just be good at something. Not the best in the world, but better than mediocre.
Hell I swear I don't think I even rate mediocre when it comes to running.
Being the sweet, thoughtful husband he is, he hugged me and told me that in his eyes, I was the best penny pincher in the world - and that was something to be proud. Then he pulled out the cheese card and told me I was the best in the world at loving him.
*Begins passing out air sick bags.*
Then I have the loss this morning - at this stage in the game 3 1/2 pounds is certainly not a mediocre loss!!
In fact its enough to earn me this shiney thing...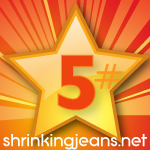 I wiped the slate clean and decided I'd only post a button if the weight loss was for the year - so here I am 3 months after the year began finally earning my 5# button. My next stop will probably be stealing Thea's "I lost it all" button, because somehow I'm not sure 119 (what it would take to earn the 10# button) would look healthy on me.
Another victory for me is that I now have not one, but 2 pair of pants that I can take on and off without unbuttoning them. For a girl with a booty like mine, that's sure saying something!
Time for me to report in to the Weight Loss Warriors and let them know how I did - no feeling like I let them down this week. Time for you to hit the scale and report in to the
Sisterhood
.