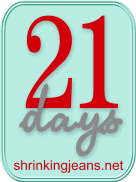 Before I tell you about how mediocre I was with keeping my goals, let me remind you what they are:
Eat 5 fruits and veggies every day
Serve 1 veggie every night with dinner.
Pick up the house every night before I go to bed.
I've actually done the best with the one I thought would be the hardest - serving a veggie with dinner. Jay claims that he doesn't like vegetables, I don't think he gives them enough of a shot.
Wednesday: Jambalaya mix + Italian sausage + can of corn (drained)
Thursday: Wasn't home for dinner
Friday: Leftovers - Jambalaya, shells & cheese w/
rotel
, something else I can't remember
Saturday: Pepperoni Pizza = FAIL!
Sunday: Didn't cook dinner but had black bean and corn salsa for lunch
Monday: Chicken Pot Pie (can of
Vegall
included in recipe)
Tuesday: Pizza with banana peppers (by Jay's request - SCORE
So I'm 6/7 on that one. Not bad if I do say so myself!
As far as my 5 fruits and veggies, some days I've only made it by the skin of my teeth (assuming that pizza sauce counts) other days were epic fails. I'm doing well at getting a couple of pieces of fruit in, but the veggies are a struggle for me. I've purchased carrots and cucumbers to snack on, and then of course get the 1 veggie at dinner. Any other suggestions for a veggie that could be paired with lunch to get my 5th in?
Picking up the house, well that's a work in progress. Its hard to keep a tidy house when you're married to such a busy and important man. Seriously though, Jay works very hard to provide for our family. While the
feminazi
inside me protests, I've come to realize that if I want to have our house paid off in 5 years I'm gonna have to pick up a dirty sock or two that doesn't belong to me.
Even though I haven't been doing a great job of picking up the house nightly, I have been doing a little along the way. That little has made a big difference - I don't have such an overwhelming job at the end of the week when I go to clean. This habit is definitely one that shows immediate rewards and I'll keep around a while (if a bit modified.
For those who haven't already, check out my latest 5K race report
here
.
How are your goals coming? Tells us all about them then head over to the
Sisterhoo
d to link up!