I have a tiny confession to make. Even though I've sworn off calorie counting, exercise tracking, calorie burn tracking, and weighing myself -
I stepped on the scale today.
Honestly it wasn't all that bad. In my head I was convinced that I had gained every last pound back and that I was as fat as ever. Never mind the fact that all my clothes were still fitting the same.
Given all the different variables, I really haven't fluctuated all that much. That should take a huge burden off my shoulders, but it doesn't and I can't really pinpoint why. Don't get me wrong, I'm very thankful. It seems that my body has found its happy place and as long as I don't go extreme in either direction I'll be good. Then again maybe its just too soon to tell.
Okay now on to my accountability for the challenge.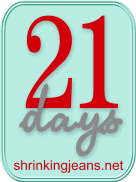 My goals?
1) Serve at least 1 veggie with every meal
2) Eat 5 fruits/veggies every day
3) Pick up the house every night before bedtime.
How'd
I do?
1) Veggies with dinner
I did okay on this one. Last Wednesday we went out to eat and he got a Philly cheese steak burger topped with green peppers and onions so that was a big - CHECK - for the evening. By Friday, I was feeling bluesy and couldn't muster up the gumption to do much in the way of cooking. He had a leftover hamburger with a side of
ramen
noodles. I just had a bowl of
ramen
(fail).
The others nights' veggies included fries (fail), canned diced tomatoes, and salsa. Then there was last night...I was so overwhelmed at all I've got going right now - I just laid down on the couch, wrapped up in a
blankie
and did nothing. I had chips and salsa for dinner. Jay had
chex
mix. (Epic Fail)
Final count
4/7 days serving at least 1 veggie with dinner
2)
5 fruits/veggies
Even stretching it and counting pizza sauce as a veggie, I didn't meet this goal. Most days I had 3 servings - typically 1 fruit, 2 veggies. Saturday I did the best, eating a pear, green & red peppers, onions, and green beans (
teriyaki
steak at Outback). While I did get in 5 different kinds of fruits/veggies, I'm sure I didn't 5 full servings of each.
Today will most likely be another fail, as I've only had pizza sauce thus far today. Maybe a strawberry/chocolate/banana smoothie for dinner with a side of green beans. Okay I said that jokingly but how easy would it be for me to make a salad* and a smoothie for dinner after spin class? I'll be getting home late any way.
Okay so if today isn't another epic fail - I need ideas as to how I'm going to get Jay to eat a veggie to accompany his frozen pizza (his dinner standby when I don't cook anything).
*I always wash/chop my veggies when I bring them home from the grocery store - just add lettuce and I've got an instant salad.
Final count
0/7 days eating 5 fruits/vegetables per day
3) Pickup the house every night before bedtime.
EPIC FAIL!
My house is a wreck. Partially my doing, partially Jay's. I've let it get bad though. I've got to get back on the wagon or go crazy. My next week is booked up, so it'll be hard to get anything done. Maybe I'll tweak this one for the coming week and pledge to spend at least 15 minutes per night (not including dinner or dishes) cleaning or picking up.
Right now I have 3 loads of laundry waiting to be folded and put away, as well as about 2,000 square feet of hardwood flooring begging to be swept (thanks
Misti
for letting me know I'm not alone in my plight!)
Monday night I was going all all cylinders. I took spin class from 5:30-6:15, got home around 6:45 and didn't stop going until I went to bed at 10. Even when I slowed down long enough to watch one of my favorite TV shows Chuck, I still stayed busy. I started laundry while I cooked dinner, did dishes during the commercials of the show, and during the show itself I wrapped the birthday gifts I just purchased for the Princess and the Little Man, as well as preparing all my birthday cards for the month. (May is a busy month - I've got 5 card worthy people born this month.)
(I can hardly believe that today is her 6th birthday!! And he'll be 2 at the end of the month.)
Before you think I'm super woman (or every woman if that sounds like your life all the time), I did just the opposite last night. I went grocery shopping after work, skipped my weights class
and doing the Shred workout I promised myself would replace the skipped weights workout
, put away groceries, chopped veggies, got freaked out because Jay had a contractor to the house to talk about adding a garage and doing a complete master bath overhaul, (which turned into adding another full bath & walk in closet completely). As soon as dude left I put on my
jammies
& crashed on the couch to watch the 1st hour of biggest loser. Then I moved into the hearth room (our living room TV doesn't pickup ABC) and crashed in the big red chair to watch LOST.
All the while 3 loads of laundry were staring me in the face. You see, yesterday morning I couldn't find my wedding rings. I freaked out, afraid I lost them while transferring laundry from the washer to the dryer. So I emptied both machines shaking out each item as it was removed. Turns out the rings were on the counter by the sink. I'd removed them to bleach the sink and forgot to put them back on.
Back to the story at hand - I managed to not look at the load of towels in the laundry basket, load of workout clothes on top of the dryer, and completely forget about the sheets in the dryer.
I am a woman in desperate need of a list.
Final count
2/7 days tiding the house nightly before bed.
Hopefully I'll make it by your blog today to see how you're doing. If not I'll get there eventually, but apparently I have an emergency list situation that desperately needs my attention.