This is weigh-in day of course, and I was actually a little surprised at what the scale said this morning. I'm pretty much where I was last week, where I was the week before. I suppose this morning I "felt" fatter, my pants felt a little more tight. (Then again I think I was wearing a dress last week.)
I'm okay with that.
Not happy, but okay.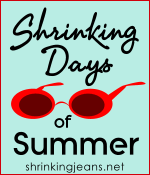 When I decided to start weighing myself again, to stop the gain, I decided to be more moderate this time around. No fretting (or celebrating for that matter) over a 0.4 pound gain/loss. Water retention, what I had to drink this morning, or a number of things could make the scale bounce around a little, why stress over it?
Friday when I went to the doctor (and got the all clear to train just in case you hadn't heard) I was up 5 pounds from 3 weeks earlier. FIVE POUNDS!! Apparently I'd had a big lunch or not enough water or something because there is no evidence that it stuck around.
My doctor (who's a very funny man) said "I see we gained 5 pounds, that's good." Then he looked up at my horrified face and then said "Oops, I mean not good."
Honestly I'm afraid to diet. The word "restriction" scares me considering lengths I had to go to in order to refill my body of a vital nutrient. My exercise/calorie restriction probably didn't have anything to do with the anemia.
Probably.
But since he didn't pinpoint just what
did
cause it, it leaves me to wonder.
Did I do this to myself?
So this time around (just in case) its different. As I shop at the store, the first thing I look at on the food label is iron
then
calories. Spinach in my salad instead of romaine lettuce. And a multi vitamin daily.
Come September 26th I'm totally gonna rock that triathlon. I can truly say I
just
want to finish. Even if I finish last, it'll be a hellova accomplishment.
Looking over the training plan yesterday I thought it looked perfect. I remember thinking the first time around that the first few weeks were a huge decrease in my activity level. This time around they look like the perfect way to ease myself back in.
So today at lunch I'll walk/run 15 minutes, then follow that with a 5 mile ride on stationary bike. (I had to combine 2 in 1 because I'm getting a late start on the week. (The training plan is an 11 week plan and the triathlon is exactly 11 weeks away!)
I had to laugh at the compliment
Kim
gave me in the comments yesterday. "you are the most successful 'all or nothing' person I know!! :) " That is a compliment, right??? :P
So how'd your week go on the healthy & fitness front?