Its going to be another scorcher today (we have a chance of breaking the record of 98 degrees), my hair is frizzy, and my tiny serving of cereal went down way to fast.
Why is today so wonderful, you ask? (Okay so even if you didn't pretend like you did. 'Kay?)
It is Weigh-in Wednesday after all.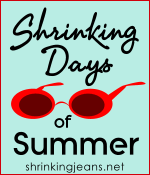 But the scale isn't why its wonderful either. I decided on the drive to work (before I got on the scale) that today was going to be wonderful.
The wonderfulness actually came last night. I worked out at lunch, so I got to go straight home after work. I tidied the house up a bit, but a load of laundry in the washer, then started cooking dinner.
I was inspired to try a new recipe. If I'm completely honest, I haven't had the energy (mental or physical) to try a new dish in a while. What if I put all that effort into it and it doesn't turn out? I just didn't have the umph to spare. Last night I tried a balsamic new potato recipe, enjoyed cooking, and the potatoes turned out great!
I ended up loading/running the dishwasher, doing some pots & pans by hand, doing 3 loads of laundry, fixing dinner, unpacking my workout bag, repacking it for today, and packing my lunch for today.
The best part? I wasn't worn out after I finished all of my chores! I could have kept going if I had needed to.
I was quite pleased with the evening's accomplishments, so I decided to hit the couch and start a new book. I'd finished 2 books in the Stephanie Plum series over the weekend, so last night I started the 3rd that a coworker let me borrow last night. By the time Jay got home I was 1/3 of the way through the book.
I'm sorta scared to say it, scared I'll jinx myself, but I think
maybe the infusions worked
. It just took a little while for the Benadryl to work its way out of my system so I could get out of the tired slump it had put me in.
I'm even going to try running today at lunch.
Just a mile. And I promise to stop if its too much. For the record I was never told I couldn't run, just that I couldn't do anything that made me out of breath or fatigued. Running did both of those.
On to the scale - no change to speak of this week. I'll certainly take it because I ate like a cow this weekend. To my mother-in-law, food is love and when your at her house she makes sure you eat well. And by well I mean she stuffs you, not that she feeds you healthy food.
Cause I'm quite certain those macadamia nut cookies turned into ice cream sandwiches weren't health food. As much as I tried to reason, that apple pie ala mode doesn't really count as a fruit and dairy serving either.
Hope you're having a wonderful Wednesday as well!