Good morning!
Things are a changin' around the Sisterhood. Seriously - go look for yourself! I'll wait.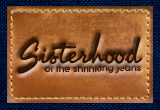 One thing that's changing is our regular Weigh-in Wednesday. Since so many of us are focused just as much on training as we are on weight loss, not to mention our intuitive eating sisters who've thrown away their scales. Wednesdays have officially become our "check-in" times. Slight change of wording, but huge shift in focus.
I've also signed up to be a part of the group challenge starting next week. I had great success (and made some great new friends) during the last challenge, so I certainly wanted to join in on this one.
Not to mention those 7 pounds I've gained in the past 2 months.
The Scale
I don't remember exactly what I weighed last week, I just remember that the scale said 13_. When I stopped weighing myself weekly, I weighed 122 point something or other. That's 7+ pounds I've put on in the past 2 months!
I promised myself that if/when I hit the 130s I'd do something to stop myself.
I had several
excuses
reasons I didn't start as soon as I saw the magically growning number, but in my head I kept saying that I'd change my behaviors on Monday. I worried that I was just putting it off, but come Monday I was back on
Livestrong
tracking calories.
For the past 2 days I've done a great job of monitoring what I eat, eating healthy, and not going over my calories. Not sure if it worked or if it was just water retention last week, but I saw something on the scale this morning that I haven't seen in a while - the number going down.
This week: 129.6
After the obligatory "you look perfect just like you are", he suggested that 125 be my goal. Not even knowing what I currently weigh. His reasoning? Nothing scientific, just that anything lower than that sounds too small.
But he wasn't complaining a few months ago when I was at 122. I'm just sayin.
So I've decided my goal range should be 120 (in my dreams)-125.
Training
For whatever reason I've noticed that my weight lifting (although it seems easier at the time) is more tiring to me than my cardio. Maybe its a lack of endorphines or something like that. Who knows really. I don't want to give up the weights though, so I'm trying to change up my eating patterns and stuff to help out.
My running is all coming back to me - only faster! This past week I held a 5.5 MPH (10:54 minute/mile) on the treadmill with only a brief walking break. I wouldn't have needed the walking cardiovacularly, but I do want to ease back in for the sake of my muscles, joints, and tendons.
My first spin class is tonight, but I've taken my bike out for a couple of rides. At this point the only problem really is the swim. Right now the indoor pool is closed and the outdoor pool is full of frolicking children. I'm probably going to have to break down and start going to the pool one city over (and have to pay!) but I need to get that work in. I was pleased last week though, with my one and only swim, how I haven't really lost any conditioning.
The Hair
Of course this isn't really a weekly check-in feature, just wanted to share that I've found I can scrunch this do and go too, for those days I really do have to wash my hair after a lunch time workout.
So how'd you do this past week? Hopefully you're doing all you can to push yourself toward achieving your goals!!