Normally, the Challenges issued to us by Christie O. and the rest of the Sisterhood team via the Monthly Project focus on improving ourselves somehow. Whether it be loving ourselves more, finding our inner motivation, or sharing great healthy recipes.
This month, however, our monthly challenge is taking the focus off us and on to someone else.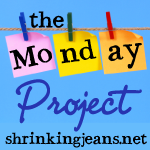 Let's face it, if you're concerned about your weight? That means you have plenty of food to eat.
Worried about being active enough? You must not have a strenuous manual labor job.
I don't know about you, but I'm thankful for both of those.
From the
Sisterhood:
For this project, all we ask is that you spread the Holiday Spirit, by donating something or doing something, anything, for another person and blogging about it and letting your fellow bloggers know about which charities or projects need help or how they can help in their own communities.
Jay and I have been very blessed. Blessed with a good mind for money, blessed with hands that aren't afraid of hard work, blessed with good circumstances.
Oh and there is always that pooping gold thing...
My goal for this month, and the Monthly Project, is to donate to a different cause each week. I'll be honest, the first week in December was a short week and I'm not sure if I donated at all that week. I probably threw a buck in the can as I passed a
Salvation Army
bell ringer so we'll just count that.
(I always feel so sorry for the ringers out there in the cold and people just walking past them. Even though Jay likes me to write checks for most of my donations for tax purposes, I don't feel right walking by without dropping something in their bucket.)
Last week we donated to the local
Teen Christmas
. It breaks my heart knowing that there are high school aged kids out there without a warm coat. Teen years are hard enough without that extra burden. So many people focus on buying toys for smaller kids that I chose to make my donation here. Sure its not as much fun to buy the cute little kid clothes or toys, but this isn't about what's fun - its about meeting a need.
Another need, the most important actually, is the need to hear the Good News of Jesus. The
Lottie Moon Christmas offering
goes to support International Missionaries as they spread the joy of the Christmas season.
Today in the town of David a Savior has been born to you; he is Christ the Lord.
Luke 2:11
I was honored yesterday morning at church to be able to contribute to this fund. If we all lived our lives the way Ms. Moon did, we could truly change the world.
I haven't decided where to give for the 4th and 5th weeks of the month, but I have no doubt something will come my direction. I hope to share it with you when it does.
How are you helping others this Christmas season?