First off - if you missed my Operation Priceless post pop over and check it out
here
. And if you see me on twitter I could sure use a #teamBrooke shout out. The closer to race day (3 and counting) gets the more nervous I become!
Today is the last day of the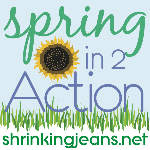 challenge. As much as I've enjoyed teaming up with Ashley for this one, I have to admit that I'm glad its over. Just another hamster in a wheel not getting anywhere. Which is cool if your goal is to not go anywhere or just to stretch your legs, but when you're trying to get on down the road its totally not cool.
(Once again) I've decided to change up the way that I weigh. I'm not willing to restrict myself enough to see significant weekly progress. Who knows if a 0.5 pound here or there is water or actual fat loss? But to have lost 2-3 pounds for the month? That's progress.
So, I start end this challenge just as heavy as I started, but with new resolve.
I will weigh myself the first week of every BC pill pack. Every 4 weeks. I'm thinking no more Sisterhood challenges for a bit, but I'll probably say that and they'll post a super cool new challenge that I desperately want to be a part of.
Week 1 is next week, but I'm not going to weigh. I weighed today for the last week of the challenge and we'll just let that ride for the next 5 weeks.
Also? I've got this picture on the desktop of my computer.
I want to get back there. I'm leaps and bounds from it now. It'll either encourage me to stay on track. Or make me crazy. We'll see 'eh? So far its just helped. Yesterday I chose to eat a Greek yogurt for afternoon snack and fore go the Texas toast with dinner.
Today? The office next door brought over omelets, hash brown casserole, biscuits, and muffins.
I made myself a small plate for lunch and moved on.
Then she brought over gravy for the biscuits and I caved.
Oops.
So now I am 24 calories over goal (dinner & spin class taken into consideration, but not lunch).
*sigh*
Moving right along...
Challenge goals:
For fun reading daily:
6/7 - this could have easily been 7/7, as the only day I missed was Saturday. What was I doing Saturday? Sitting on the couch being Miss Pouty Pants. Not cool. The upside is I did great the other days.
Daily Bible reading:
6/7 - see above. Mz Pants needs to take a hike.
Water:
6/7 - Knocked this one out of the park drinking 9-10 glass of water every day. Except, you guessed it, Saturday.
(The biscuits & gravy are starting to give me a belly ache already. Not cool.)
Exercise:
5/7 - This one was doable, but I sorta gave up on the push up challenge. So Saturday and Sunday I was exercise free. I averaged 27 minutes daily (186/7), so I'm counting this one as a win.
Veggies & Fruits:
4/7 - My weakness, and I know it. I failed on this goal the days that I ate like crap. Easy way to fix that - stop eating crap!
Is it really too much to ask for 7/7 on all of these things just one week of the challenge? Heck 7/7 on anything for a week would be great. I'm considering keeping this up for another few weeks beyond the challenge
because I'm a perfectionist
just to see if I can improve.