Today is weight in day over at the the
Sisterhood of the Shrinking Jeans
. Head on over to check in, also check out how some of your fellow aspiring shrinkers are doing.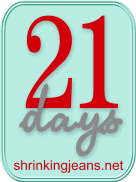 Last week: 129.2
Current weight: 127.2

I'm not sure what to make of that. Aunt Flow is coming for a visit tomorrow, but then again I ran 3 miles before weighing this morning. Oh well - I'll take it! :) (PS - that's 0.2 pounds away from my 10# sticker!!)

Today starts the 21 day challenge - the girls gave us some ideas to start with on things we can work on for the next 21 days, turning them from ideas into habits. There are several they listed that I need to work on, specifically getting my 5 fruits & veggies as well as my 3 dairies.

The more I thought about it, I realized that while I need to consider these things, I have something far more important to work on - stopping all negative self talk.

Some of you may know the children's song referenced in the title. "The Father up above" isn't the only one looking on you in love. Most of you (whether they be yours or a family member's or a friend's) have little eyes look at you, waiting to see what you're going to do.

I wrote yesterday about my 5K experience this past weekend. My niece has been at the finish line waiting on me for both races. She's also heard all about her father's experience participating in the Empire State Building Run-Up race.

It made me very proud when my mom told me that the Princess told her she wanted to "be healthy and run races like Aunt Boo." It broke my heart, though, when she told me how the Princess got a bowl of ice cream for desert that night, took two bites, then pushed it away. "I forgot, I'm supposed to be watching my sugar."

A 5 year old shouldn't know what that means.

My mom chastised me, thinking that it was something she overheard me saying. I'm quite confident it wasn't, because typically when the Princess is in, I just take a cheat day.

Later in the day, the Princess and I were playing on one of her "rock star" toys that puts the image of you onto the tv. My mom decided to join in the fun, and danced into the picture. When she saw herself on the tv, she said "Okay, fat legs shouldn't be dancing" and danced her way off screen.

I have since called that to her attention, but the point is we all say things like that about ourselves. The little ears hear it, and deep down, we hear it too. Say it long enough and you'll actually start believing it.

Who wouldn't love to be a 50+ year old woman with two healthy children, two great son-in-laws, and two beautiful grandchildren - to have all of that AND only weigh 150 pounds? Sound like one blessed grandma to me! Only she sees the skinny legged woman who weighed 145 pounds the day before she gave birth to her 2nd child (that'd be me).

Its certainly not just her. She learned it from her mom, and my sister and I, in turn, learned it from her. It has to stop somewhere, and I chose for it to stop here.

For the next 21 days I will not allow myself to engage in any negative self talk. And I will try my darnest not to think any.

Wish me luck - cause I can promise this journey isn't gonna be easy!