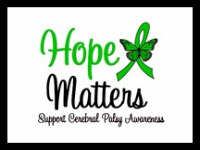 Today is Cerebral Palsy awareness day, and Keri over at
Life of Logan
is asking everyone to get out the word.
My own experience with CP is limited, but even a taste is heartbreaking.
A fact pulled off her site seems almost unbelievable, but with my own snipped of experience is rings true.
There is currently no cure for cerebral palsy and in most cases, it is not preventable. In over 50 years, treatments for CP have not progressed much at all. In fact, today, there remains little consensus among medical professionals regarding what causes CP or how best to treat it. Why do 800,000 or more Americans have CP, and yet we don't know much more about what causes it or how to prevent it than we did a half century ago?
At 3 weeks old, my nephew rolled over from his belly to his back. My first reaction? "What an amazing kid!"
When my sister mentioned it to her pediatrician, he instructed her to watch for it to happen again and if it did, to bring him in.
We later learned, because the little man kept rolling over, is that this is an early sign of Cerebral Palsy. I found that strange, since everything I understood about CP limited movement.
The little man was referred on to a Pediatric Neurologist, and was given the thumbs up. Since he's so young (now nearing the 10 month mark) they really can't test for sure. The doctor said it appears that he doesn't have CP, but that if more signs appear as he develops to keep an eye on them.
How frustrating that with today's medicine the best diagnosis my sister can get is "We don't
think
your son has CP." They at least have assured her that with his current skills, if he does eventually get a diagnosis - it'll be such a mild case that "even his wife wouldn't have to know if he didn't want her to."
I remember how scared I was during the whole process.
Only he's not my kid.
And he probably doesn't have the disease.
I can't tell you how much I admire Logan's parents - they must be some incredibly strong people.