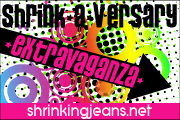 Looks like we're gonna be celebrating the 1st anniversary of the Sisterhood in style! Today is the first day of the new challenge, so be sure to weigh-in and link up.
I'm excited about the new fitness challenge because its one that I can actually hold my own in - we're gonna be logging mileage ladies!! That challenge doesn't actually begin for another week and a half, but considering I'm logging 21 miles this week - and my mileage will only grow between now and the 21st I think I'll manage okay in this challenge.
While I'm gone on vacation (Nov. 5th - 13th), I'm scheduling blogs so that you guys won't miss me too much. Those of you that only visit on Wednesdays, what would you like to see in place of my typical weigh in post?
Now I'm gonna pick your brains - any one have any maintenance experience/wisdom?
I'm currently eating about 1800 calories, 2,000 on the weekend. I know that probably sounds like a lot, but with the activity level I'm at, I should be at 2350 for maintenance using the
Harris Benedict formula
. I understand that its not a one-size fits all formula, but I expected to be closer to that.
What do you all think could be the problem?
Do you think that my body is just too use to the exercises that I'm doing?
I went to the "Super Class" at the gym last night. Twice a year they do a two hour class, giving a sampling of every class they offer. After a warm up, we did step, step & strike, kick boxing, cardio on the bosu ball, ab work, leg & arm strength training, and finished up with 15 minutes of yoga.
I'll just tell you that class kick my rear.
Combine that with my running buddy's knee injury (from an inbalance of muscles) makes me wonder if I should go harder on my cross training. From all I've read its very common for runners to get injured because their quads aren't as strong as their hamstrings.
The gym also offers a spin class - so I'm thinking that I'll do at least one spin or aerobics class once a week. Do you think that'll help?
What suggestions do you guys have? I either wanna lose more weight (120 would be nice) or be able to eat more at maintenance. It might not be possible, but I'm sure gonna try!!