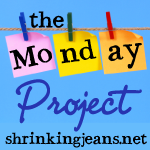 So why am I posting the Monday project on Friday? Cause that's the way I roll yo.
Or else that's just the way it works. The project is assigned on Monday and we have all week to work on it. Its some pretty deep stuff this week, but internal inspection usually is.
What about 2009 (and beyond) did not work?
Eating whatever I wanted, whenever I wanted didn't work. Cheat days didn't work. Weekend breaks didn't work. 1200 calories a day didn't work.
What were my goals?
I wanted to lose 13 pounds and get back down to 125 pounds. I wanted to run an entire 5K, then later in the year a half marathon. Mostly, though, I wanted to lose weight in my bottom half to even out my out of proportion body .
Did I fall short of achieving them? If so, why?
I met all of my running goals and got down to 125. I'm still not content with my top half being two sizes smaller than my bottom half, but I'm starting to learn that no matter how much weight I'm going to lose I'm always going to be a little out of proportion. Still a work in progress though.
What were my biggest obstacles?
Getting the appropriate number of calories down was a huge obstacle. For the longest time I bounced around in the 138-134# range. Four pounds wasn't a big enough difference in my book to warrant all the calorie counting and exercising. Once I found my calorie goal should be much higher than what I was actually eating, the weight came off easily. (Thanks April!)
What was my "rock bottom" moment?
I didn't really have a rock bottom moment to begin with; I just got sick of people telling me that I was going to gain weight because I was married. I can't stand when people make those kinds of assumptions, so I set out to prove them wrong! I guess rock bottom for me was getting almost to the point of quitting. Without some of my Sisters helping me up, I probably would have quit
What are my bad habits?
My Dr. Pepper and fast food addiction. The only way I can resist is to stay far away and keep myself too busy at lunch to run out for a quick bite of heart attack in a sack. Apathy is also a big obstacle for me.
What has worked?
Being strict with myself. I'm a by the books kind of person, so I actually enjoy when I'm able to have a strong discipline/will power. Having a training plan in my calendar keeps me on focus working out. I writing my calories in red in my calendar also keeps me honest. During the best times of weight loss I'd average my calories for the first 5 days of the week to see what I had left for days 6 and 7.
I hunted around for some good before and after pictures, and I really couldn't find any. I settled on race pictures. The first is a picture of my first ever race. Can you see it in my eyes? The nervous anticipation - would I be able to run all 3.1 miles without stopping? Would I be the very last to finish?
Then there is the picture that was taken of me a couple weeks before my half marathon. I was down 10 pounds - and had just completed a 10 mile hilly run when this picture was taken. Maybe I have my chubby glasses still on, but I can't really tell much of a difference between the two pictures, physically at least. Emotionally I've changed drastically since then. Who would have ever guess I would be that happy after the most difficult run of my life?
Just to add as a PS - I wanna brag on myself for how dramatically my tastes have changed. Yesterday I was discouraged at my weight and decided to just have what I wanted for breakfast - two eggo (okay so they were Kroger brand) waffles and kyro syrup. I had purchased the waffles for another purpose but I just dove in yesterday.

And they weren't that good.

This morning I had one waffle, added a tablespoon of honey and a tablespoon of peanut butter and enjoyed every bite.

I love it when good for me (or at least kinda good for me) stuff tastes better than complete crap!!