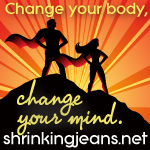 This week I've done a better job with the mind part than the body part.
I've been weighing on two scales for the past couple of weeks and just going with the lower one - consistantly the work scale rather than the gym scale. Not sure if its a difference in my workout clothes verses my work clothes or something more...
Add a couple pounds to the scale in the ladies locker room. That's an approximate quote from the movie Dodgeball. I looked
here
for the exact quote and couldn't find it, but I did find this one. Seems to have been my life's motto for the first 28 years of my life - and I'm still having to fight against it.
Peter La Fleur: I found that if you have a goal, that you might not reach it. But if you don't have one, then you are never disappointed. And I gotta tell ya... it feels phenomenal.
Anyhoo - starting today I'm just going to weigh on the gym scale.
Goal Weight: 124
Last Week: 127.6/128.6
This Week: 126.8/128.0
I'm incredibly surprised that I'm registering a (tiny) loss for the week. Especially with the
weekend
I had. It also reinforced what I was wondering about - with my increased activity 1650 daily calorie intake seems to be working for me.
Apparently I really can have my cake and eat it too as long as I run 3+ times a week, lift weights 3 days, and take a spin class. Oh yeah, and the day of yoga. So yes, Bari, yoga does count!
From this point forward, I'm only going to be weighing on the gym scale - so for next week 128 will be my reference point.
I promised not to let my emotions be affected by the weigh in, but I can't help but be a little happy. Either I lost water I was holding on to from Aunt Flow's visit, or I lost it because I'm not as stressed as I was, or I just burnt off enough calories. It really doesn't matter to me.
Did anyone else take note of what Jillian said on BL last night? About how holding in stress causes water retention and doesn't allow for weight loss. Makes me hopeful that once we get moved and settled into the new house the weight loss will be a little easier for me.
So how'd you do this week? Head to the scales then to the
Sisterhood
and report back.
Yes, I know that I promised you pictures of all my bargain shopping. I took them last night and everything. However, Jay & his computer didn't get home until late and mutter something about being too tired. [eye roll] What he thinks making money at his job, then going over to the farmhouse to work and getting it ready to move in is more important than pictures for my blog? Men!