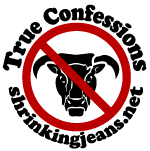 I spent the weekend with the in-laws and ate like crap the entire time.
Most of the crap I didn't enjoy.
For once I wish I had some rum & diet coke instead of chocolate rum cake
I wanted to go for a run, but had been too busy packing snow gear I didn't. (And it never snowed).
I love those All Bran fiber drink mixes and had one yesterday...
As a result I was the "phantom pharter" on the elliptical last night.
I snooped and watched the girl beside me enter her weight...
And was surprised that it was 125. Without knowing that I would have told you that I wish I was as small as her. I guess I have to rephrase that I wish my 125 was distributed like that.
After my two workouts yesterday (weights & the elliptical) I was all pumped up for more. Sorta disappointed that today is "just" a run day. I might do my 10 minute ab tape to suppliment tonight when I get home from work.
I had an extra cheddar biscuit last night that wasn't within my calorie allotment. But it was good and I didn't care.
I finally feel like I'm back on track with no obstacles ahead. I refuse to let moving be an obstacle - if anything it'll be a great extra calorie burn.
What do you have to confess? Head over to the
Sisterhood
to see that you're not alone!!