Its weight in day over at the
Sisterhood
and the 2nd week of the Rethink Your Shrink challenge!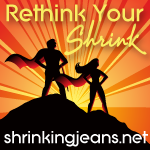 I decided to switch scales this week, and I'm not sure if it had an effect on the results. For the past few weeks I've been waiting until after my workout, after my shower to weight at the scale at work. Since I have scrunch 'n go kinda hair, I've been weighting with a wet head. Apparently I come up with all sorts of excuses for my weight being up.
Since its more convenient (and more first thing in the morning before I've had a drop of food/water), I decide to start weighing in at the gym. Monday, Wednesday, and Friday are our weights days, and we prefer to do it first thing in the morning so we don't have to fight smelly boys for the equipment.
I worked out hard this past week. I only cheated on two meals. For motivational purposes, I needed to see a loss on the scale this week.
Starting weight: 128
Goal weight: 120*
Last week: 129
This week:127
Now I'm not sure what the difference in the two scales are. Quite frankly I don't care. I needed to see that loss this week and I'm glad for it. 127 doesn't feel all that far from my original maintenance weight of 125. 129 felt like I was crashing, burning, and on the road to gaining it all back.
What? I've never claimed to be sane rational.
My success this past week gives me the motivation to stay on track - and not let a friend's hibachi birthday lunch completely derail me completely.
Speaking of motivation - I've gotta get to work on my wall. I've already got a few things but I'm no where near finished.
Also, I'm a little nervous about my race this weekend. I'd love to be able to finish in 32 minutes, but I'm just not sure that'll happen. Right now my personal record is 33:58, and it was my first 5K ever. If I can't manage 32, I at least want a new PR.
*120 is my goal weight over all, not for the challenge. I don't think it would be realistic for someone my size to lose 8 pounds in 7 weeks.
PS - I packed 5 boxes last night! :) Granted they were small copy paper boxes, but none the less I've officially started packing!