Christie O. was generous enough to give us two weeks to complete this Monday Project - read a book on healthy/fitness/nutrition and report back.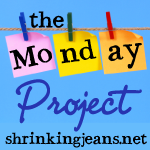 I chose
Triathlete Magazine's Complete Traithlon Book
by Matt Fitzgerald. My friend/training buddy loaned it to me right as my training began and just in time for the Monday Project! She had considered doing a sprint triathlon and had purchased the book for herself. I can't really remember why she never raced in one.
Okay if you're new to triathlons run far, far away from this book! It really freaked me out. I'd talked to Christie and Pubsgal and had myself psyched up for doing a sprint tri myself. Then I read this book and got completely intimidated.
$1,000+ for a bike? A wet suit? This is a sport I can't afford to get addicted to. Thankfully Christie was around to talk me down and point me in the direction of
Beginner Triathlete
. I'm already in a mentor group working along side a group of tri newbies like myself.
Having said that, the book did have useful information in it. I'm sure more experiences triathletes would benefit greatly from the book. I even learn that I needed to tweak my swim - who knew that your arm should break the water bent at an angle instead of straight?
Okay so everyone did.
Go ahead, I'll wait until you get finished laughing at the 29 year old that knows nothing about swim technique.
*Waits*
I'm not getting any younger folks.
*whistles*
Anyhoo - the author doesn't seem to think that a triathlete in training should eat in a deficit, but who knows more a writer for Triathlete Magazine or Christie O.? It seems to be working for her. Maybe with the longer distances (Olympic, Half Ironman, Ironman) I can understand that, but I'm not increasing my training any so I shall survive.
Enough about that - I'm excited to check out what you're reading. Don't forget to link up over at the
Sisterhood
.
If you're not a shrinking sister, I'd love to hear about what you're reading in the comments. I <3 books!
PS I haven't started the Beth Moore Insecurities book yet. I'm scared. I know its gonna be painful.