Good morning all! The sun has found its way back out just in time for my BRICK workout this afternoon and its the final weigh in for the spring fling group challenge.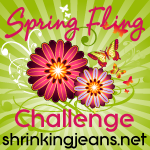 We'll just cut to the chase.
Challenge start: 125.4
Goal weight: 120?
Last week: 123.4
This week: 122.8
Not exactly the big numbers I was hoping to post to help the team pull out a victory for the challenge, but I can't be too hard on myself. At this stage in the game even a 0.6 loss is hard to manage.
Okay that's a lie. It wasn't hard this week.
Wednesday:
Pizza, beer, & wings (with Jay's client) at the local microbrewery.
Thursday:
Hamburger Helper cheeseburger macaroni* - although I did measure my portions to ensure staying within my calories.
Friday:
"Best Italian Restaurant" to carb load for the marathon. Since we were walking and we planned on eating all along the way, I got the Atkins meal of italian sausage, sliced peppers & onions, and marinara. I also had the full fat homemade Italian dressing on my salad as well as 3 garlic knots covered in olive oil.
Saturday:
I have assed my calorie counting as I packed my bag for the marathon. Then I liberally ate whatever they had at the refueling stations - bananas, peanuts, more bananas. Then I partook (without guilt) of the pulled pork and doritos they had waiting for us at the finish line.
Sunday:
I felt like I ate everything in site. In reality, the 2nd helping of baked spaghetti was all I truly had to feel guilty over.
Monday:
The one day I was actually good. Breakfast for dinner without a fatty pork product on my plate.
Tuesday:
Yet another dinner with a client that involved pizza. I didn't get full on pizza so I ate a salad with some sort of homemade thousand island dressing and an orange for dessert.
*What's a girl to do? I'm trying to use up my Hamburger Helper stockpile never to buy it again. I want to switch to healthier eating. Sneak a veggie or two onto Jay's plate. Thursday night he sat down at the table and said "You know this is one of my favorite meals right? Why don't we have this more often?"
I had considered giving myself a calorie counting break after this challenge. I'm definitely getting my exercise in - I'm on week 6 of my triathlon training (I may or may not have skipped a couple of weeks at the beginning).
Now I'm questioning that. My "goal" weight is 2.8 pounds away. If I can half heartily count calories and still reach it, why give up now?
Because unless all 2.8 pounds comes from my legs I'm not going to be happy even then.
So here's the new plan. Stay with my calorie counting and try to get to 120. When life happens and I can't, I don't beat myself up. Like this weekend. Friday I'm volunteering all day at a charity sporting clays (shooters hitting clay targets) event. I won't have the ability (neither will power nor time or opportunity) to eat 3 healthy meals on Friday. I'll pack some healthy snacks, do my best not to binge on the yummy, unhealthy goodness around me, but sample a small taste and enjoy myself.
How'd you do? Did you finish the challenge strong? Or are you excited for the next challenge to get you motivated again. Or are you one of my readers who admited yesterday to being more like Jay in the motivation department?
Hopefully you did well - after all you've only got one body. You need to take care of it. Sure there are titanium joints, pig hearts, and things of that nature you can use to replace what you trash, but that's just icky, gross, and requires a lot of downtime.
Sisterhood unite!
Sisters - link up!
I'll leave you today with a picture of me and my 3rd place Civilian team medal. Sure the 4th place person was the one sitting on the couch all day Saturday, but 3rd is 3rd no matter who's behind you.