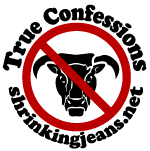 I have a few things to get off my chest this morning! After burning 2,000+ calories at the
Mountain Man Memorial March
this weekend, I took some liberties with my calorie couting. I may have had some cookies, doritios, and a couple of chili dogs.
I also did absolutely nothing on Sunday.
Nothing.
Okay I know that you're supposed to take a rest day after a big event like that, it was just hard for me. It was a gorgeous day and I desperately wanted to take my bike out for a ride. Or go for a run. Anything to get out.
But none of that is my confession this week.
Wanna know what I've got to confess?
I'm a sneaky wife! I'm trying to come up with ways to get Jay involved in exercise without him really knowing. All that talk at the first of my blog? Just trying to convince him this is a post he needs to skip over. He reads my blog (and even comments sometimes) but he's admited to skipping over my weight loss/workout blogs. Hopefully he's skipping over this one today!
Last night he went trail running with my training buddy and me. I like to use the excuse that the trails are isolated and it wouldn't be safe for two women out running alone. That's true, in part. I certainly wouldn't go out there by myself. But its also a good way for me to get him out there and get him moving.
Jay is an athletic guy who enjoys sports. Weight isn't an issue with him, but his inactivity (due to his focus on work) can't be healthy. He followed his father's footsteps into his occupation, but I don't want him to follow in the sedintary life.
My FIL is a great provider for his family. He's set a good example for Jay to follow. He loves his work. The danger of loving your work, however, is that it becomes your hobby too. People need to be diversified, just like investments.
Jay has a great work ethic, but pushes himself to the point of burnout. Then he goes the opposite direction and just shuts down for a while. It can't be good for him. I'd love to see him get involved in some sort of sport or activity so he has a venue to channel his work stress.
Beyond the trail running I'm going to heavily suggest we hike more this summer. What are other ways I can get him active and involved? I get annoyed with him and call him Captain Critical because I can't keep up with him running or hiking, but I have to put myself aside for the sake of his health and well being.
I'd love any suggestions you have to give!
Head over to the
Sisterhood
to check out more confessions!