Good morning all! Ms. Downer is around here somewhere, I just wanted to pop off a quick post before she turns up and tries to ruin things. :P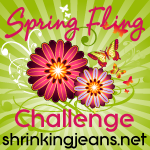 I'll get the numbers out of the way first:
Challenge start: 125.4
Goal weight: 120?
Last week: 125.0
This week: 123.8
I'm trying not to get too excited about the loss, because I fear next week the roller coaster of my weight heading back uphill. (Aunt Flow is coming to visit Debbie next week.)
I've decided a few things in the past week. The first is after this weight loss challenge is over, I'm going to give myself a break on calorie counting. Not allow myself to go hog wild, but follow Karena's lead and not obsess about every bite I put into my mouth.
Also, when I'm finished with the triathlon training, I'm going to give myself a couple of weeks off. Christmas was really the only break I've had from running since I started back last March. It doesn't hurt that right smack dab in the mittle of those two weeks off is my 30th birthday. I'm hoping my body will come back ready to push harder than ever. Even if it doesn't, it'll be a nice little vacation.
I'm considering finding alternate means of exercise for the months of June, July, and August. Still run a time or two a week, but focus more on cross training. Once September arrives I'll begin training for the Disney Marathon, so my legs deserve a little calm before the storm. Any suggestions for things I could take up?
Its tempting to combined heavy lifting and eating at maintenance or a little above to attempt to build muscle mass during this time period. I guess its still far enough out there that I don't have to make any decisions right away. Last time I restricted calories because I wasn't sure I could mentall handle the weight gain that would come from a mini bulking phase.
Okay I know I'm a freak. While most might find having their year planned out already constricting, I find it liberating! I love knowing what's in store for me. I love
being in control
having a plan.
Mhahahahahahahahahahaha!!!!!
PS - I've actually been getting some work done around the house and it feels wonderful. Now if i could just find a way to get the cob webs out of the corner of our 16 (ish??) foot tall stairway wall.