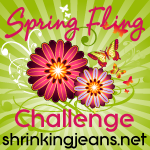 Good morning all. Okay first things first - the scale.
Challenge start: 125.4
Goal weight: 120?
Last week: 123.8
This week: 123.4
What? Um, that totally wasn't supposed to happen. If you read
my confessions
yesterday you know that this was my sabatoge week. No, I don't plan it out, but as I was sitting in the McDonald's drive thru on Monday I realized that's exactly what I was doing.
This week is my week for Aunt Flow to visit, for me to ride the cotton pony or whatever silly phrase we use to talk about the week that all hell breaks loose on our bodies. We blame our cravings on Mother Nature, we blame her for the bloat gain for the week. No, its not the burger, large fries, and large coke in my hands - its that damn TOM.
Only what was really keeping me from losing was me. I'm insecure. The more you know me the more you know to what degree. (In case you were wondering I fall in the "lightly more than normal" teetering on the brink of "effed up nut job".)
What if I lost more
and it still wasn't good enough
?
Add to that revelation my darling love. Any of you who are married know that sometimes men are idiots. As Mrs. Charlie says in the Farm Bureau commercials "I didn't want you to fix it, I just wanted you to listen."
(BTW - If you're not a southerner and haven't seen the FB/Charlie commericals you're missing out. They're very cute.)
I'm trying not to let the scale be my sole guide, so for the past year and a half I've been measured by one of the fitness instructors on a quarterly basis. She does my wellness assessment for work, and then afterward takes all the standard measurements.
(BTW - I lost 1.5% body fat in the past quarter. I'm down to 21.1% body fat.)
Here were the results -
Biceps -¼ each, -½ total
Upper chest -¼
Upper Stomach +1
Waist -¾
Lower stomach -1
Thighs, calves, hips stay the same.
The chest/upper stomach measurements might not be accurate, as I was too lazy to change from my regular bra into a sports bra (which is what I usually wear for measurements.)
Part of the reason I started this journey was because I was sick of my circus freak shape. My bottom half was 3 sizes larger than my top half. Never had a problem with my top half. At my biggest? I was a size 2 up top (and a 32B I might add - I rather enjoyed being a B).
What the beep am I supposed to do with these numbers? My waist (which I'm apparently still losing from) is only 2 1/2 inches bigger than
ONE
thigh!
I'll admit it - I snooped in the Hood Shred group measurements. I'm the queen of comparing myself to other people.
So what does this have to do with my darling hub-sand? When he took me out to lunch yesterday, I was bemoaning the fact that through out everything I've done the past 6 months - the half marathon training, the triathlon training, the calorie counting - I can't get my thighs to budge.
His answer: You're not pushing yourself hard enough.
Seriously?? The previous measurements were done half way through my half training. When I was measured I was only up to a "long" run of 6 miles. My training took me all the way up to a race distance of 13.1 miles.
But I'm not pushing myself hard enough?
My triathlon training program calls for me to eventually swim 350m surrounded by other swimmers in a pool. Do you know when I was taught to swim? NEVER. Over the course of the past two months I've taught myself the following: how to keep my head under water. how to breath to the side instead of to the front, that my arms should enter the water bent instead of straight. Things I'm currently working on: bilateral breathing & leading with the top of my head instead of my forehead to reduce drag.
But I'm not pushing myself hard enough?
I set a goal of a 10 minute mile for my last 5K. I worked for 8 weeks doing speed work and consistant runs in order to get my time down. My obstacle for speed? Not being able to catch my breath. Gasping for air and wheezing. My doctor has since given me 2 prescription drugs for exercise induced asthma. But the reason I can't run faster, can't breathe at the faster pace is...
Because I'm not pushing myself hard enough???
You know what the real pisser of it all is? Even though it makes no sense. Even though I have this list - and more - to prove just how off base he is. Depsite it all.
Deep down I actually believe him.
That's the part that scares me. That worries me.
Despite all I've done to try to prove to me (and bottom line - I do all of this for me and no one else) that I can do what I set out to do - I still don't believe it.
Ironic that this all should come to a head this week. The week that I'm elbow deep in So Long Insecurties by Beth Moore. I feel like screaming up to heaven I GET IT - I'M INSECURE. NOW FIX ME!!
Because what's the point of understanding all of this in my head if my heart is still asking
What if I'm never good enough?
I know, I know. I owe you my $15 copay for you making it to the end of this blog. Sorry.