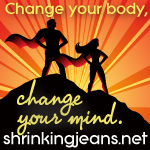 Don't worry, its just the end of the challenge - I have a feeling I'll be rethinking my shrink for years to come!!
Okay let's get the pesky little numbers out of the way.
Starting weight: 128.8
Last week: 127.6
Challenge goal: 124
This week: 128.6
Okay so I've accomplished nothing scale-wise this challenge. I have to be okay with that.
A wise woman
told me yesterday - I can do anything
that I want to do
. Losing more weight just must not be a priority right now.
Wanna know a secret? I'm kinda glad.
I have body image issues, more than the average woman I think. (Who knows I've never been any woman but myself so how can I really judge?) I also have obessive tendencies. I get focused on something and it becomes my world.
So the more I think about it, not losing weight is a good thing.
Because it means that I have something more important in my life right now. (In case you haven't heard I'm moving into a farmhouse built in 1900. No, not the 1900s. 1900. Meaning its 110 years old. And, no I don't have "after" pictures yet.)
Why set weight loss goals if I'm not going to put my effort behind them? I'll only be disappointed.
So from now until we're settled into the house, maintenance will be my goal.
Another smart woman
told me yesterday that ranges were good. I'll maintan my weight between 127-129 and keep my calories between 1600 and 1900.
I'm working out 7-10 times a week, working a full time job, packing, cleaning, and updating the house. I need my fuel!
So how'd you do this week? Did you acheive the goals you set for yourself this challenge? Drop your link over at
the Sisterhood
and tell us all about it!