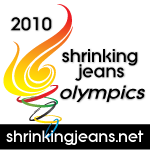 Today is weigh in Wednesday and since I didn't like what the scale said this morning I'm trying not to stress too much about the scale, I thought a little deversion would be in order.
Did you know that the Sisterhood is hosting its own Olympic competition? Check it out over at
The Hood
. While the games are already underway, there are new challenges daily, so its not too late to check in.
Can I admit to you that I'm nervous about tomorrow? I decide to use this week as a week to change up my routine and add something different in. So I signed up for the mini-triathlon. 10 laps in the pool, 12 miles on the bike, then 3.1 miles running.
Am I crazy? I'm having to take time off work to do this - what do you think?
(My gym pool doesn't open until 6 AM, and it'll take me at least 2 hours to complete - I have to be at work at 8. The pool isn't open for lap swimming after 3:30 PM, which rules out after work.)
So why am I taking time off for a challenge I know I won't win? Because it'll be a challenge just to finish, and I like a good challenge.
Thankfully only 3 of us are crazy enough to tri have signed up for it so as long as I finish I'm pretty much guaranteed a medal. And a bazillion calories burned.
Speaking of pushing myself....I took the plunge yesterday and signed myself up for the Disney Marathon!!! I'm hoping to finish in about 5 hours, but since its over 10 months away I think its a little too early to set a time goal.
Okay now what...this post isn't long enough to hit "publish" yet, but continued typing would probably just cause a downward spiral into me complaining about my lack of weight loss, how I hate my body, etc.
So what's a Option B girl to do?
Hmmm...
Oooh - Over the weekend I got the new Beth Moore book! For those of you unfamiliar with her work - she's the author of many in-depth Bible studies as well as a great speaker. She takes one particular subject, then does an insanely thorough job of unpacking what the Bible has to say on that topic.
Her newest book?
So Long Insecurity, You've Been a Bad Friend to Us
.
I bought (and finished)
Galloway's Book on Running
this weekend (found it for $1 at the flea market), so I'm excited to move on to this new book. I just don't want to start it until I have enough time to really dive in. This is a lesson I desperately need, and I don't just want to skim through it.
My mom also signed me up for the live simulcast she's doing on the same topic at my parents' church and am looking forward to that next month.
And in unreleated news, tonight some friends and I are checking out the newest show in town
Joseph and the Amazing Technicolor Dreamcoat
. Unfortuantely, it won't be for a performance starring
Melinda Doolittle
, but it'll be fun none the less.
Now to figure out somewhere yummy, yet healthy for dinner before the show.
So how'd you do this weekend? Blog all about it then link up over at
the Sisterhood
.