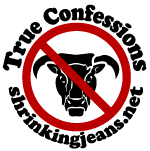 Happy Tuesday to all!
Wanna here my confession?
I seem to be eating everything in site
Okay so that was the lamest confession in the history, but seriously other than my constant hunger I've been good!
So I'll confess one more thing - then take my pennance for it.
I've had pictures of the Valentine's Charity Banquet that Jay & I worked and I haven't posted them yet.
That's right, I can give Jay evil eyes all I want about the SuperBoo pictures and blame him for the lack of house pictures...but I've had these (thanks to
Brandi
, who periodically let me steal her camera that night) since February 15th.
As the
loose
lovely Golden Girl Blanche Deaveroux says Better Late Than Pregnant...
Guys are so luck at events like this. Jay has worn the same suit, button up, and tie (I swear I think he only owns one tie) for the past 4 events. This year, however, I bought him a pair of new black dress shoes for Valentine's day. Maitenance and upkeep aren't his strong suits so his last pair may or may not have looked like he stole them off a sleeping homeless man.
The best picture I have of my $12 designer, size 0 dress (not that I'm bragging or anything) is this shot of me and my mom. She and my dad helped out last year and decided to join us again. They had the dreaded coach check job. Newbies always get that job until they move up in the world. My mom, however, said that she really enjoyed it so they might have found someone to take it on every year.
A big thanks to Maria for letting my borrow the necklace. I wasn't sure what would be best with a low v like that. Thankfully she bought out the jewelry store before arriving and had an extra for me to borrow.
Is it horrible that I love this picture of me but poor Jay looks like he hasn't slept in 4 days? Hopefully the formal photo of the two of us will be a good one of both of us.
And the final photo of the evening was on our dinner break. I was flighting about taking care of some terribly important task and left him alone at our table. Apparently, he found the keynote speaker very interesting.
While I was insecure about the way I looked all night (just in case you missed it - I don't have the boobs to fill out a size 0 dress), the point of the evening was to raise money for a good cause, Cystic Fibrosis research. If Jay's silent auction tab was any indication, the night was a success!