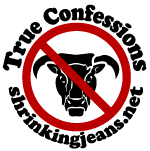 Looking over the past week, I'm not really sure I have much to confess. Grabs calendar to look at daily calorie intake/exercise logs.
Okay first with the workouts. Sure I skipped a run or two.
Tuesday - Intervals = 3 miles
I think this was the day I tried to run a 10 minute mile, but couldn't do more than a half mile at that speed so I turned it into interval work. Also did week 3, day 1 of 100 push up challenge, 200 sit up challenge, and 200 squat challenge.
Wednesday - Weights, Pilates
I dropped a run this day and felt guilty. I had already dropped Monday's run to take spin class, but I just didn't have the motivation to complete a 3rd workout that day.
Thursday - 3 mile walk, 3 mile run
I hit the treadmill bright and early before work to get my 3 mile run in. Since I had no lunch plans, a friend and I walked 3 miles just to enjoy the day. I also completed day 2 of the challenges.
Friday - Weights, Spin
Early morning weights as per my normal routine. My mom and I usually eat lunch on Friday's, but since she was out of town I hit the lunch time spin class.
Saturday - ummm....
Oops I totally forgot that I was supposed to do day 3 of the challenges.
Sunday - nothing (horrible habit of mine, not working out on the weekends)
In my defense, both days were spent packing the rental house all morning and cleaning the farmhouse all afternoon. By then end of the day my body was exhausted!
Monday - weights, 3 mile run
Weights again in the AM and a 3 miler at lunch.
I need to somehow figure out how to spread my workouts out. I don't think taking two days in a row like that off is good for my body. Especially when I'm going to cram two workouts a day in the remainder of the week. I just don't know how to set time aside for working out on the weekends. Its so much easier when I have the structure of my job to work around.
As for my calories, I made a small goof on Sunday night but beyond that I've been spot on. I got out a bowl and counted out my preztels to equal one serving. I crashed on the couch with my splurge of a Diet Dr. K and a bowl full of pretzels.
44 per serving seemed high, but then again pretzels are low calorie so I didn't think much of it.
Until Jay said something. If my husband thinks a portion is big it must be.
Reading the label more accurately, there were 44 servings per container. One serving was only 14 calories. Oops.
I whipped out my super nerdy cool formula and figured how many calories were left for Monday and Tuesday. 1650 X 7 - calories consumed Wed - Sunday/2 = 1625. Looks like I wouldn't have to start to fix my mistake after all.
PS - Eating everything I wanted yesterday, I only consumed 1569 calories yesterday. Which means, averaging everything out, even after Sunday's moment of idiocricy, I can have 30 calories more than my average daily allotment.
All of this is to say that apparently I have nothing to confess. If I don't rock the scales tomorrow I'm gonna need some serious encouragement!!!