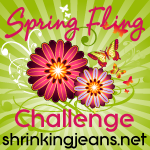 Today starts the first Day of the Sisterhood team challenge. I'm super excited to get started, but first some Olympic challenge house keeping.
There is a tiny little matter of the medals I won. *runs to twitter to make sure she won something*
I won 2 bronze medals in the Shrinking Jeans olympics: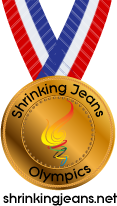 completing 96 pushups in 3 minutes
cycling 6 miles in 24:10
I claimed 3 silvers: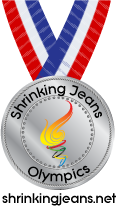 holding a wall sit for 5:36
running in the 4 X 1 mile relay (team time 37:36)
and the medal (of any color) I'm most proud of...
completing the mini-tri (swim 500M, bike 12 miles, run 3.1 miles) in 1:54:30
Finally for my gold stash: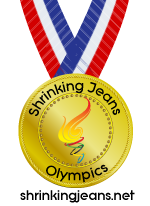 1/2 marathon relay (or 3.28 miles each) team time 2:17:05
crunches in 3 minutes 224
Now on to the future challenge. It looks like the teams haven't been put up yet, but since I've got a busy day ahead of me I'll get on with the way in. (Please forgive me if I don't get to your blog today. I'll try to catch up tomorrow I promise!)
Last week: 129
This week: 125.4
Goal weight: 120
I lost 3 and a half pounds!! Not sure what that was about - I don't think I really lost that much in fat. Maybe it was water weight, maybe it was whatever I was holding on to from stress. Or maybe (just maybe) I've been doing it right for a few weeks and it took changing things up with the Olympics to really push my body to get rid of that fat.
Who really cares - I lost over 3 pounds!!!
*does happy weight loss dance*
Now my goal weight doesn't seem so lofty and impossible any more. Plus I'm banking this for motivation in the future. When weight loss is stagnant and I want to give up or compromise my goals - just keep pushing. It will happen.
Never give up. Never surrender!!
So, how'd you do this week? I'd love to come celebrate with you (or encourage you if you had a bad week - it'll get better, you can bank on that!)